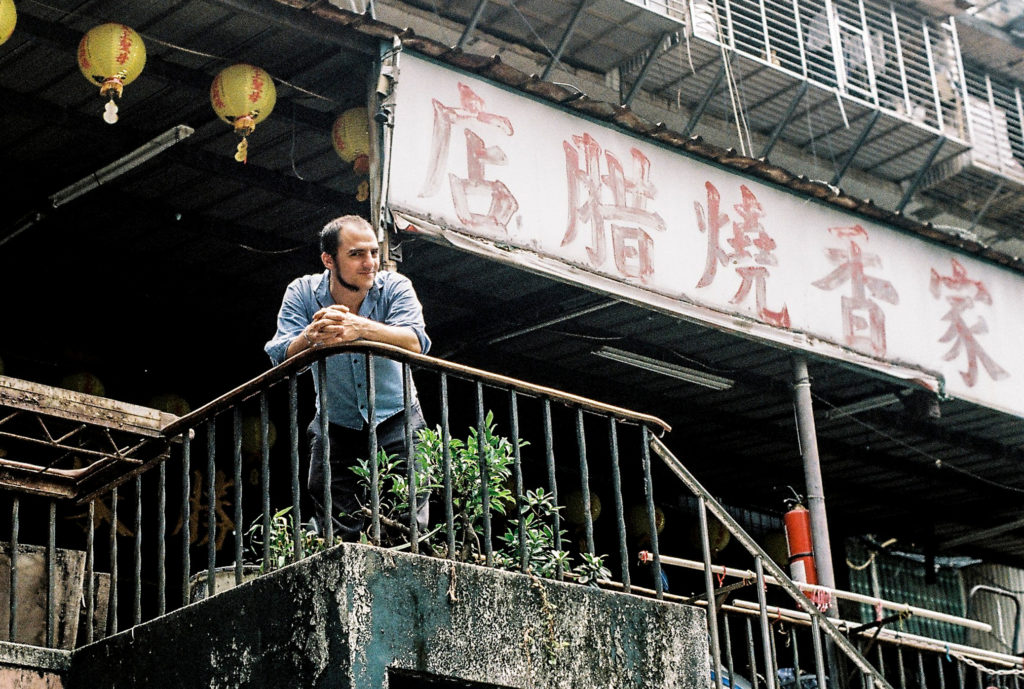 Patrik Thomas is an artist and filmmaker based in Munich (Germany) and Lisbon (Portugal). With a background in informatics and filmmaking, his recent work allies documentary film, theatre, stage design and performance through video. Reflections around the notion of labour, productivity and resistance have lead Thomas to develop an experimental work process in which the boundary between reality and fiction is challenged and often erased.
Patrik Thomas's artistic practice was built upon collaborations with different groups of people. He is founder of THE RANDOM COLLECTIVE, a nomadic platform for artistic production and education that brings together visual artists, philosophers, performers and curators. In 2013 he also founded the collective GATO ALEATÓRIO and initiated the collaborative cinema production festival named MOVIMENTO, an interdisciplinary and intergenerational laboratory. Within, he experiments also with new forms of collective action-based self-teaching through reflected practice.
Recent projects include screenings and exhibitions with ERSTE Staffel Webseries in collaboration with Boris Nikitin at the municipal theatre Nuremberg, TAIWASTE at Taipei Artist Village / International Shortfilm Festival Regensburg, Directing the real, artists' films and video in the 2010s during VISIO 2017 by Lo Schermo Dell'Arte at Palazzo Medici Riccardi, Florence, Talent Prize 2017 at the Museum of Contemporary Art Marco, Rome and Hotel Desterro at Le Shadok, Strasbourg.
Recently he won the FFF Award at the international Shortfilm Festival Regensburg for his shortfilm TAIWASTE and the 25th Videoart Award by The City of Bremen. In 2016 he was granted the Leonhard & Ida Wolf Art Award in Munich and the French German Art Prize CONTEMPORARY from Rotary Strasbourg. He is a Cusanuswerk stipend.
FILMOGRAPHY (SELECTION)
UPCOMING – BOALÂNDIA Feature-documentary film about cultural resistance in Brazil, FFF Bayern Doc-Debut / BKM Bundeskulturministerium, with Mathias R. Zausinger, Edgar-Reitz-Filmproduktion, Brazil / Germany

2020 – TAIWASTE: 25min, Taiwan, fictional documentary / experimental documentary
2018 – KRÄFTE AM SET: DIARIES OF DEBORAH RANZINI: 20min, Portugal / Germany, doc-fiction, in collaboration with Mathias R. Zausinger, K.Liebfried
2016 – HOTEL DESTERRO: 2x 45min, Portugal / Mauritania / Senegal / Guinea-Bissau, doc-fiction, in collaboration with Sebastião Braga
2015 – CARTE BLANCHE: 25min, Bulgaria / Germany, doc-fiction, media installation, in collaboration with Mathias R. Zausinger, Kalas Liebfried

EXHIBITIONS & SCREENINGS (SELECTION)
UPCOMING – KURZFILMWOCHE REGENSBURG "TAIWASTE"
UPCOMING – EMAF – European Media Art Festival 26 – Osnabrück, "TAIWASTE"

2023 – HESSISCHE KULTURSTIFTUNG, Kunsthaus Wiesbaden, "The tide is high", TAIWASTE"
2022 – GALERIE DER KÜNSTLER "Mind Body Matters", collaborative performance project with "WORKERS" collective
2022 – MOVIMENTO 22, Angra do Heroísmo, Açores Islands, Portugal
2021 – REFERAT FÜR ARBEIT & WIRTSCHAFT "WORKERS", documentary media installation, performance, with PLATFORM München
2020 – STAATSTHEATER NÜRNBERG "Erste Staffel", webseries in collaboration with Boris Nikitin, Bayerischer Rundfunk
2020 – KURZFILMWOCHE REGENSBURG "TAIWASTE", world-premiere, running in German & environmental competition, FFF Award
2020 – FESTIVAL DES DEUTSCHEN KINOS "FILMZ", TAIWASTE running in the category Deutscher Dokumentarfilm, Mainz, Germany
2020 – TMFW6 Filmweek, "TAIWASTE", Asian Premiere at the , Bali, Indonesia / Eco Film Festival, Kuala Lumpur, Malaysia
2018 – PUBLIC ART MUNICH 2018 "Kräfte am Set, Kraft des Kinos", collab. with Alexander Kluge's Winter of Love, curated by Joanna Warsza, comissioned by PAM 2018, in collaboration with Kalas Liebfried, Mathias R. Zausinger
2017 – VISIO 2017: LO SCHERMO DELL'ARTE "Directing the Real: Artists' Films and Video in the 2010s", HOTEL DESTERRO, curated by Leonardo Bigazzi, Palazzo Medici, Florence, Italy
AWARDS, RESIDENCIES & STIPENDS (SELECTION)
2022 – STIPENDIUM BILDENDE KUNST, Stadt München / Kulturreferat
2021 – HESSISCHE KULTURSTIFTUNG, Reisestipendium
2022 – SUMMERSCHOOL UCP PORTO "Cross Dynamics of Otherness, with João Salaviza, Renée Nader Messora, Ana Vaz, Kaê Guajajara, Kleber Mendonça Filho, Susana de Sousa Dias
2021 – SUMMERSCHOOL UCP PORTO "Survivance: Escolda de resistência", with Filipa Cesár, HKW Berlin
2021 – VILLA WALDBERTA, collaborative residency with the portuguese Filmmaker Filipe Carvalho
2018 – TAIPEI Artist Residency, Taipei Artist Village, Apartmenthaus der Kunst, GOETHE Institut, Kulturreferat, Munich, Germany
2018 – GAK – Gesellschaft für Aktuelle Kunst "Videokunst Förderpreis der Stadt Bremen", WORKERS4, Filmbüro Bremen / Stadt Bremen, curated by: Sarah Kaiser
EDUCATIONAL WORKS (SELECTION)
2023 – CINEVELOCITE / KINO FAHRRAD STADT, Hochschule München: Fakultät für Architektur & Städteplanung (Prof. Andrea Benze) in Zusammenarbeit mit den Münchner Kammerspielen (Elke Bauer)
2023 – GILGAMESH, Bellevue di Monaco, theatre & film workshops, in collaboration with Christine Umpfenbach and Denijen Paulevic
2022 – RAUMFRAGEN NEUPERLACH, film workshops with kids & teenagers in Neuperlach, in collaboration with Raphael Krome and Adrian Sölsch
2022 – EAST SIDE STORIES, video stage design, media education, Münchner Kammerspiele
2022 – THEATERCHECKER*INNEN, film & theatre education, Münchner Kammerspiele, Schauburg Theater
2022 – YOUNG PATHOS COLLECTIVE, film & media education, in collaboration with Chris Hohenester
2020 – DER FAHRENDE RAUM, media educatio for kids, Super8 8mm film Workshop, incollaboration with Felicitas Sonvilla, Leo Heinik and Ludwig Bader
2018 – MACAU IMAGE&SOUND WORKSHOP, media education in collaboration with Filipe Carvalho

2011 – 2019 – Several film pedagogic workshops & laboratories in Portugal, Mocambique, Macau, Brazil, Taiwan and Mali
COMMISSIONED WORKS (SELECTION)
2022 – TANZTENDENZ / HALLE6, "Is a planet an enormous mountain?" by Stephanie Felber, 360° film concept in collaboration with Stephanie Felber, 360° camera & editing, media handling & 360° installation
2022 – SCHWERE REITER, "Is there a world beyond the image?" by Stephanie Felber, live video & media installation, stage design
2022 – HAUS DER KUNST, Fujiko Nakaya retrospective, video / media restoration, media handling, versioning, for Haus der Kunst
2021 – GOETHE INSTITUT BERLIN, webseries about literature, with Hopscotch Reading room Berlin, in collaboration with Kalas Liebfried
2021 – KUNSTCLUB13, portrait videos, editing, media handling
2021 – GOETHE INSTITUT SHANGHAI, Christine Umpfenbach retrospective, editing & media handling
2021 – SCHWERE REITER, opening event of the new building, video installation, live camera, live-regie
2021 – HAUS DER KUNST, "MARX" by Olaf Nicolai, 24h film editing & media handling / versioning for synchronous live screening in 14 other institutions worldwide
2021 – KUNSTVEREIN DRESDEN, "I keep having these dreams" by Beto Shwafaty, media installation & handling
2021 – METROPOLREGION MÜNCHEN, documentation & editing, Europäische Metropolregion München e.V.
2019 – MATHILDENHÖHE DARMSTADT, Retrospective by Olaf Nicolai, media installation & handling
2018 – MÜNCHNER BIENALE, Festival für neues Musiktheater, "liminal space", video stage design for Jakob Stillmark